If you like being active like Noah, then join us on Sunday 24th April for a Memory walk!
🚶‍♀️🚶🚶‍♂️🌳☀️
We will be passing many of Noah's favourite places in the local area, and there will be two routes to accommodate all fitness levels 😊
Entry for Adults is a £5 donation to Noah's Rainbow, under 18's free! 🦖🌈
We hope you will enjoy this event whilst supporting Noah's amazing legacy ❤️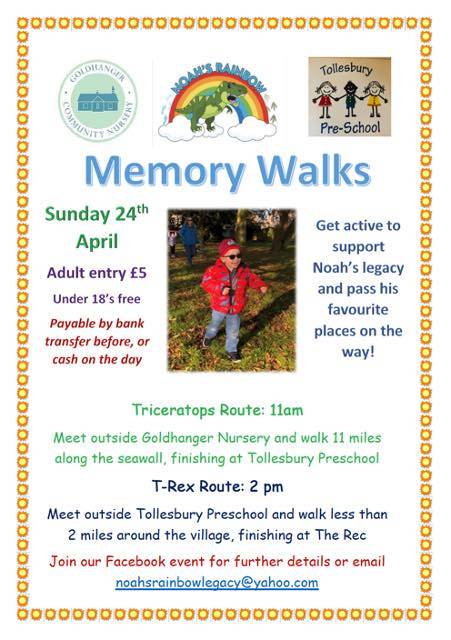 We are totally staggered to announce that your rainbow has raised a further
⭐️⭐️ £7522!! ⭐️⭐️
Little Havens and Abbie's Army will be receiving another £3761 each in memory of you ❤️ 🦖🌈
Thank you so so much to everyone who has supported us this year. Knowing Noah is loved and his spirit lives on is a great comfort to us 🥰
Today the sun was shining on us and we raised £611 from the stall and a whopping £1097 from the raffle!!! 😯
What an incredible total of £1,708 from our Christmas event!! 👏🎄👏🎄👏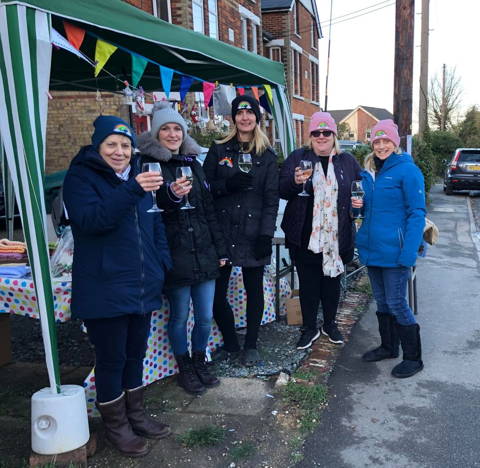 A year today we announced the launch of Noah's Rainbow and what an incredible first year we have had! 🦖🌈 😊
We planned to hold a couple of events to raise money for Little Havens and Abbie's Army. However with the kindness and support of others, we are thrilled to announce we have raised a staggering £10,605 in our first year!! 😮😮😮👏👏👏
The many wonderful fundraisers and donations have made this year very successful 👍😊
We are so appreciative of everyone who has contributed through giving up their time, skills and money in so many different ways..
⭐️ Our Christmas stall and cards designed by Laura.
⭐️ Jacqui's delicious sausage roll sales
⭐️ Kelly's 90's fun fitness zoom workout
⭐️ Our popular cake sale that sold out very quickly!
⭐️ Jo and Alisons raffle of beautiful handmade pieces and additional Masons donation.
⭐️ Generous donations in memory of Grandad Harry, Granny Nora and Lesley.
⭐️ Our clothing range online managed by Tim and local orders from events.
⭐️ Our Wristbands organised by Jayne (also sold in Gracie Roos and Styled by Samantha)
⭐️ Amy, Susie and Lorna's fabulous half marathon achievements.
⭐️Goldhanger Nursery parents donation days
⭐️ Generous donations from so many of you!
We would never have achieved this by ourselves so a heartfelt thank you to you all ❤️❤️❤️
Every day we have to live with the gaping hole that Noah left, and Ella is doing us proud learning to cope with the painful absence of her twin. We love and support each other through the difficult times and somehow still manage to find joy together, with Noah never far from our mind. ❤️💔🦖🌈
Noah's Rainbow gives us some hope that other families facing their worst nightmare are supported, and that we will see an improvement in outcomes for children with DIPG in our lifetime. No family should ever bear the pain of losing their child to this cruel and aggressive disease 😢
Please continue to support us in the future as we carry his legacy forward…🤗 🦖🌈
Our Christmas event on Saturday 4th December will be an opportunity to buy some festive goodies whilst helping us to add to our amazing total 😊 🎅🏻🎄🦖🌈
Thank you so much,
Kat, Nick and Ella xxxxA year today we announced the launch of Noah's Rainbow and what an incredible first year we have had! 🦖🌈 😊
A massive thank you to Jo and Alison for organising and creating a successful raffle that raised us a total of £1013!!!
What a fantastic amount for Noah's Rainbow 🦖🌈
Ella is very excited to be counting the money made from our wristbands and is sharing it between Little Havens and Abbies Army! 😊
So far we have made a whopping £204!! 👏
Thank you to all who have bought one so far.. we love seeing our supporters wearing them to raise awareness of Noah's legacy 🌈🦖
If you would like to buy one or multiple bands at £1 each, contact us or visit the website www.noahsrainbow.co.uk 👏
They are also available through local friends Anna and Jayne, as well as Gracie Roos Preloved clothing shop in Tollesbury ❤️ 😊
Following Noah's anniversary, we are thrilled to announce we have shared another £2000 between our two charities! 😯👏❤️
Every penny gives us some comfort that Noah continues to help others, whether through clinical trials for other DIPG children, or supporting families with life limited children at Little Havens.
Thank you all so much for supporting our cake stall, fitness and sausage roll fundraisers, clothing range and giving your generous donations 😊👍🤗 You are roarsome!! 🦕🦖🦕🦖
Here is a very happy Noah during one of his respite stays at Little Havens 😊
Wow! What a fantastic turn out we had today.. they really were selling like hot cakes and we had a queue from 11am!!
Many generous donations were also given, and our Noah's Rainbow cake raised £35 at auction
Yet again, we are overwhelmed and very thankful to announce we raised a whopping
£729.95
from cake/treat bag sales, and on top of that we have the profit from 14 clothing orders!
This afternoon we visited Noah, and told him he is making such a difference to other families at Little Havens and Abbie's Army
A heartfelt thank you to all who supported us today with baking, creating and spending! We really couldn't do this without you all.
Now to enjoy some of our own cake purchases...have a wonderful Easter
xxx
Anyone fancy some yummy Easter weekend treats?!! 😋 🐣🍰❤️⭐️🧁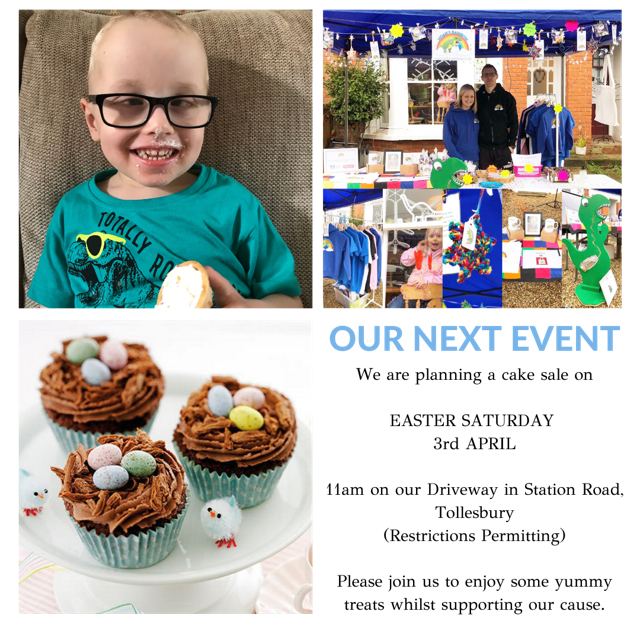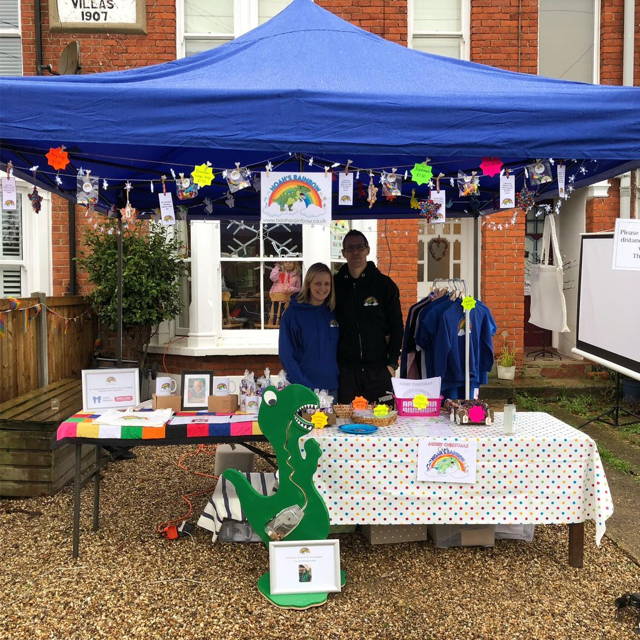 Noah's Rainbow 🌈🦖 was launched on 1st November 2020 and thanks to our wonderful supporters we can now announce our total raised for 2020 is £4,415.04!!!!!
We are so thankful for this incredible amount of money and that our initial goal of £2000 has been doubled!!
We paid £2,207.52 to EACH of our charities in memory of our little man on his birthday.
Little Havens continues to support Ella with free visits from their children's counsellor, and Abbie's Army are joint funding a DIPG trial next year at Great Ormond Street Hospital where Noah was also cared for.
Our heartfelt thanks to you all.. every penny means so much to us and it's such a comfort to know that Noah's legacy lives on in other families with life-limited children.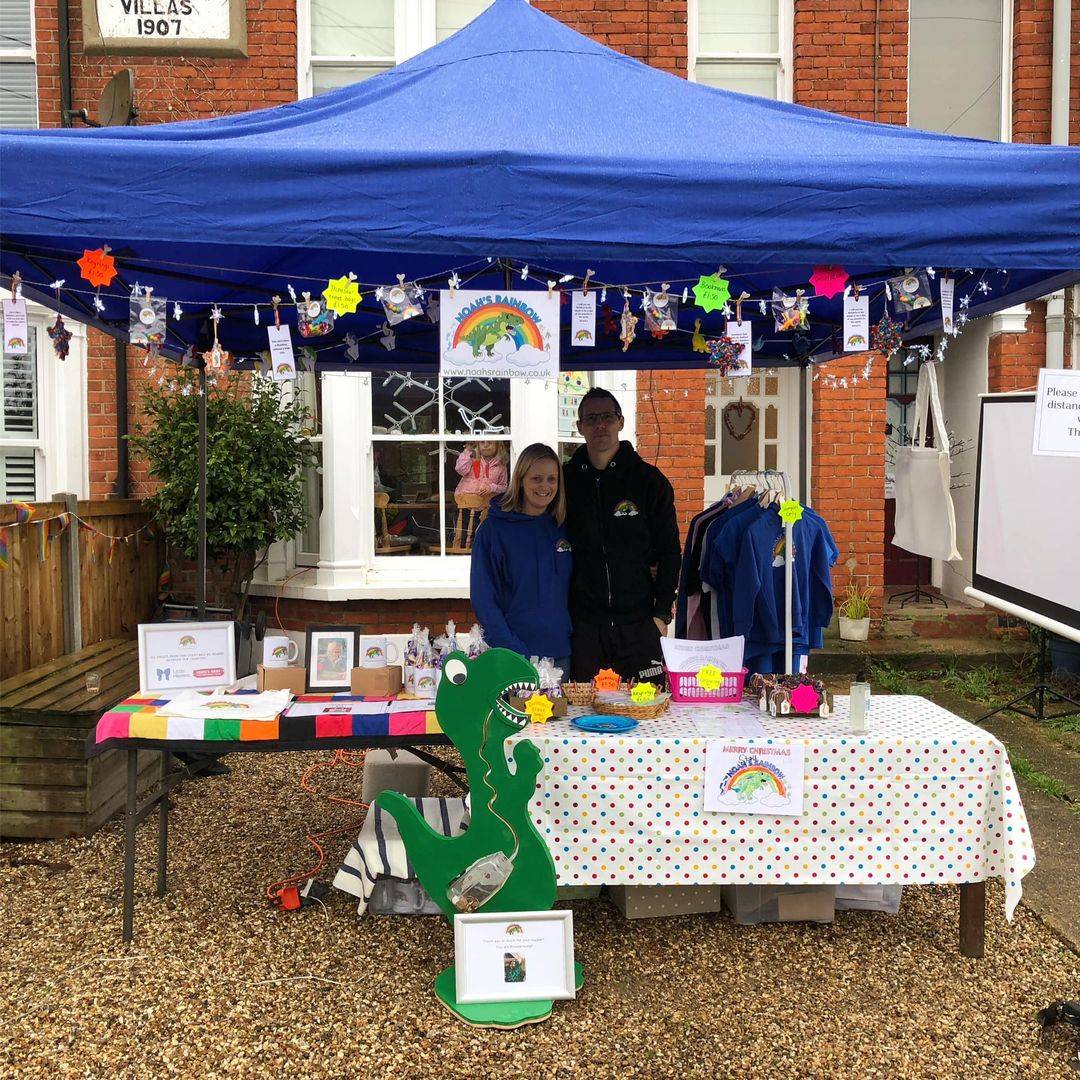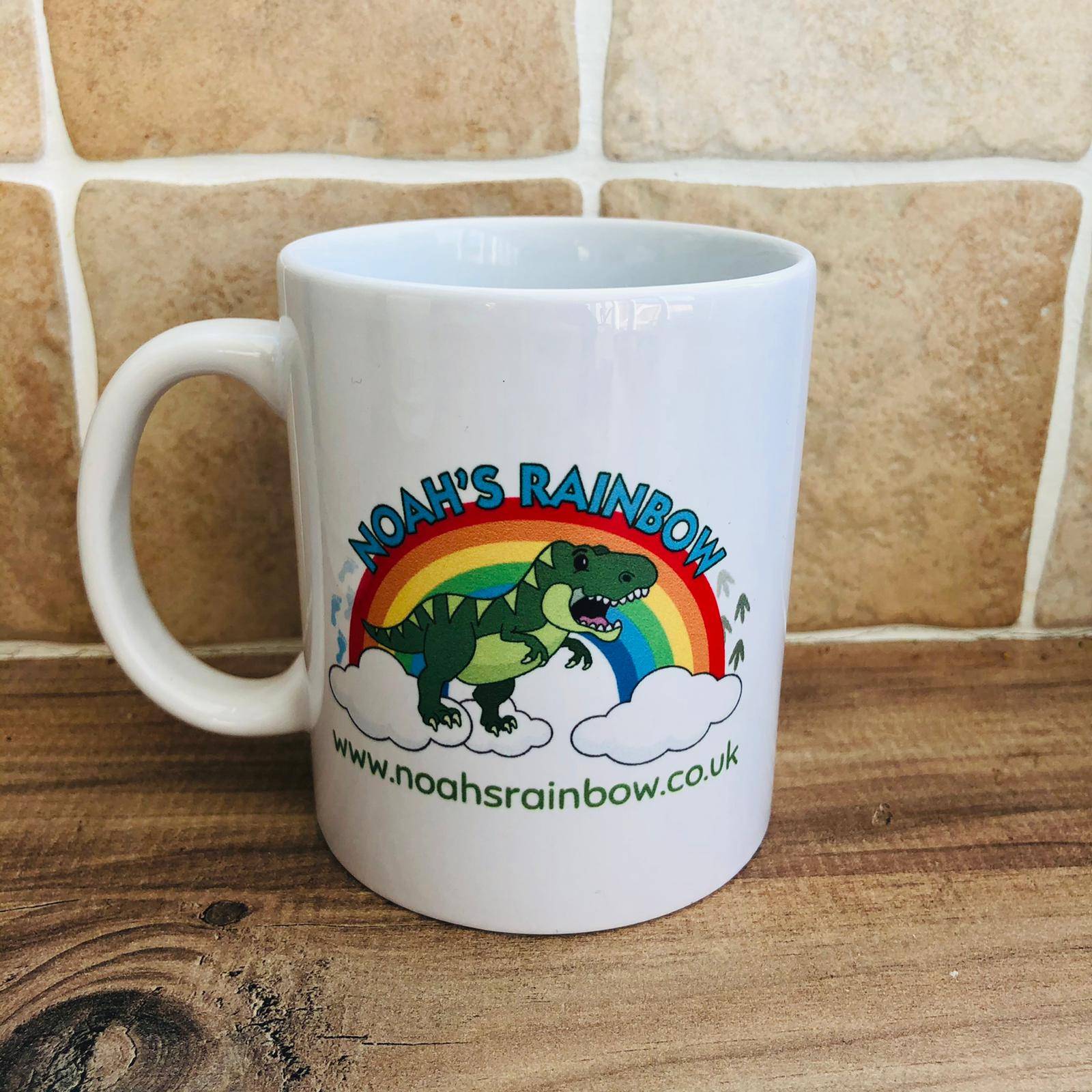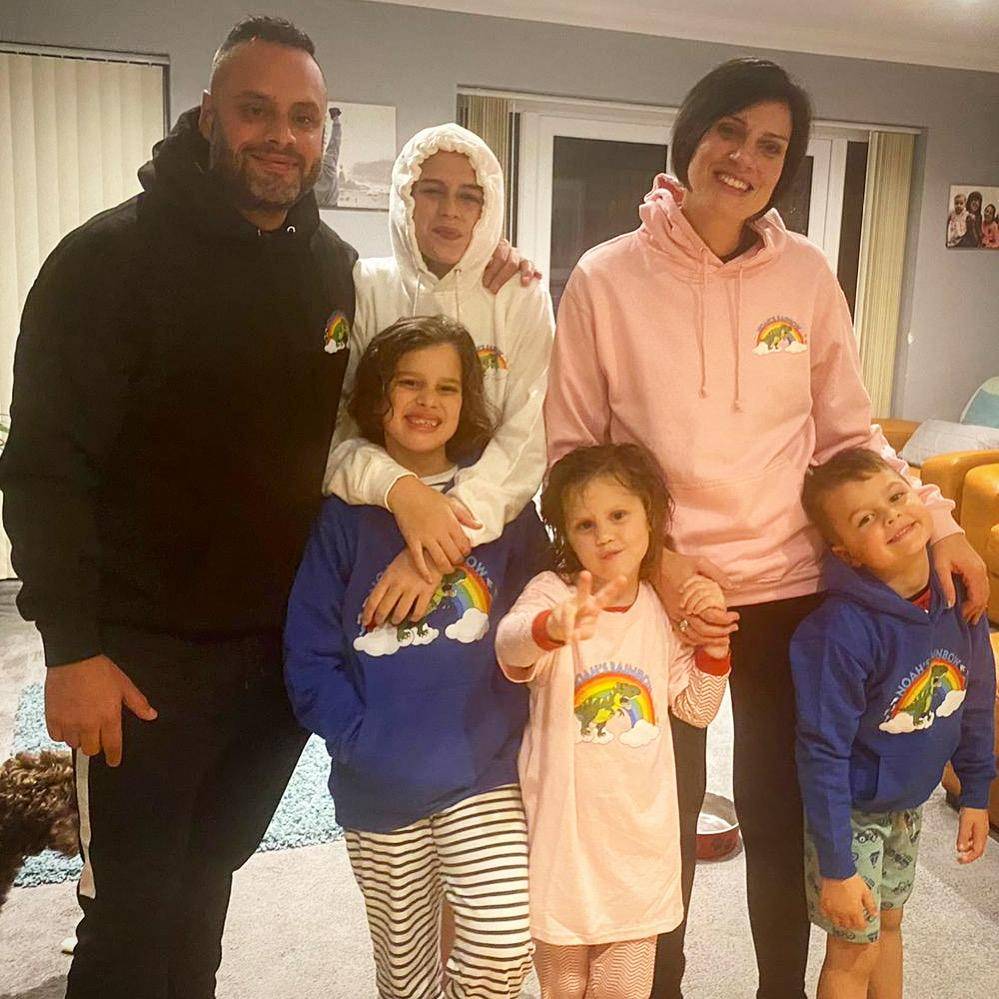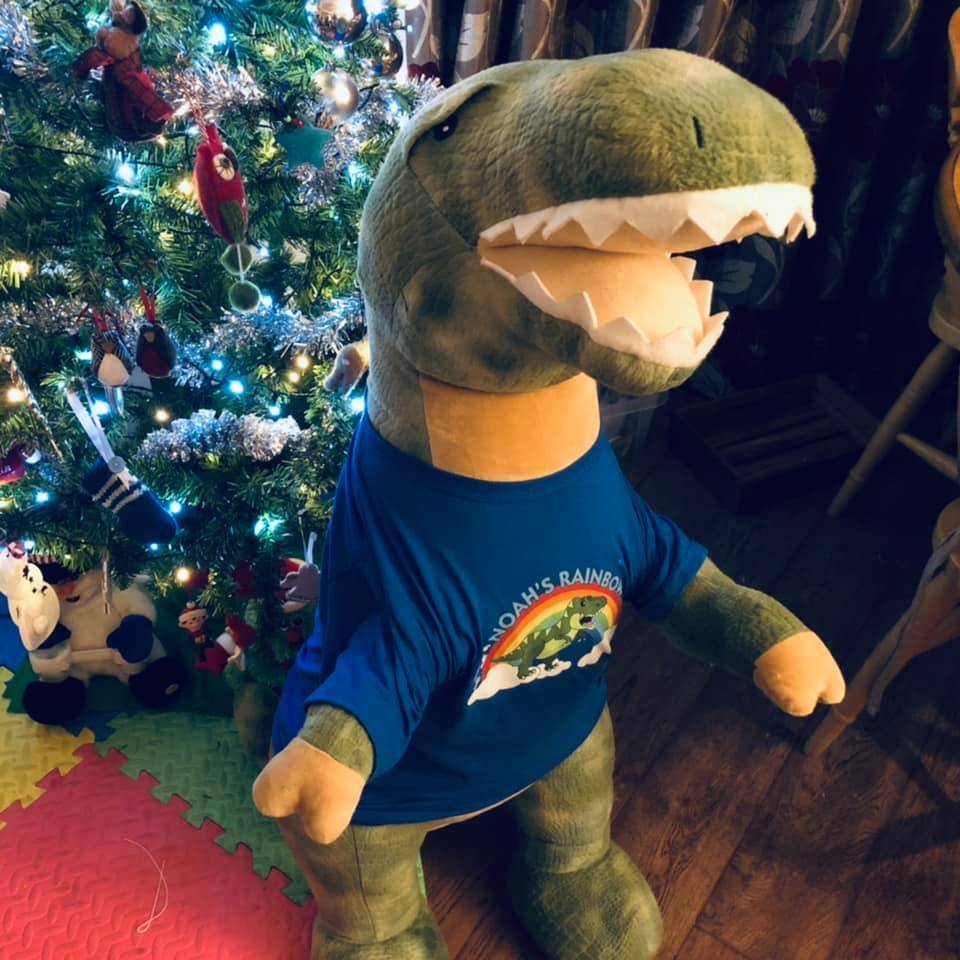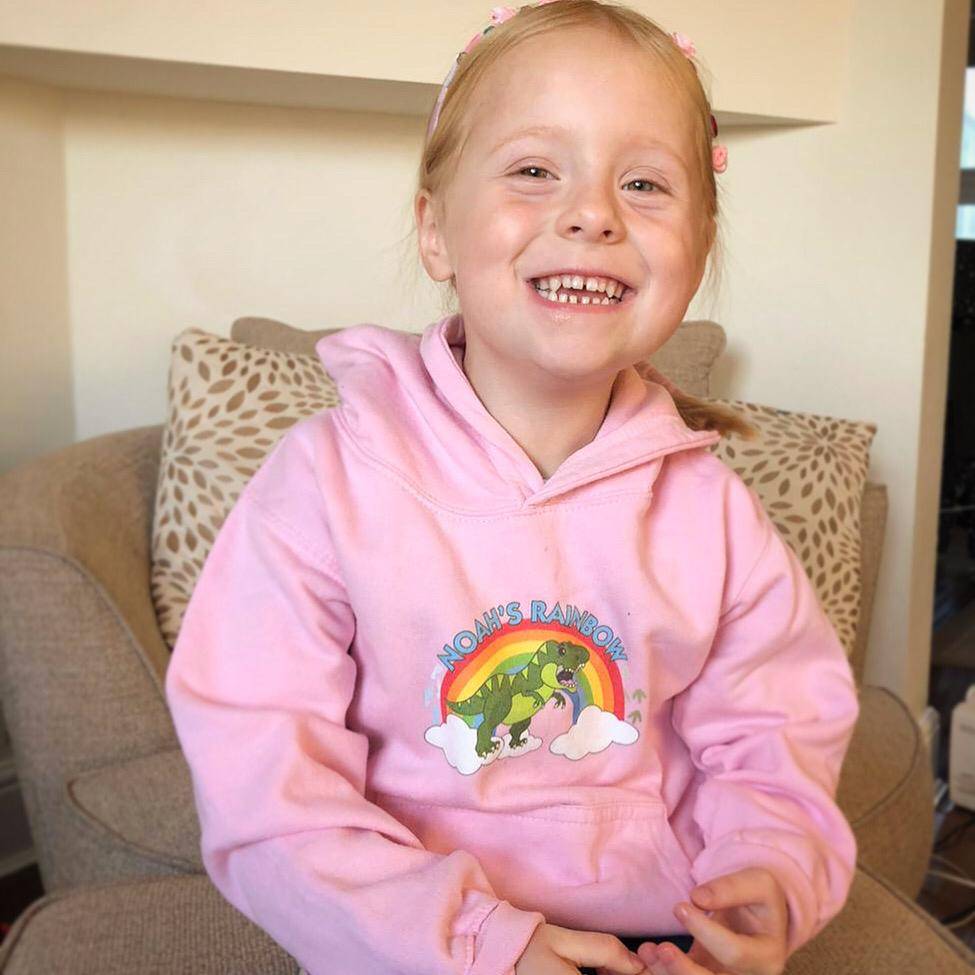 THANKS FROM OUR CHARITIES

"We are finishing the year with mention of some of the incredibly generous, kind and poignant donations still being received...before we all put 2020 firmly behind us!
Gorgeous 'dinosaur loving' Noah Wright, a twin to sister Ella should have been celebrating his 5th birthday happily at home yesterday with his family.
Sadly earlier this year on May 3rd at only 4 years of age, Noah passed away from DIPG.
When Noah was diagnosed, he took part in the BIOMEDE trial (Abbie's Army funded the additional biology of biopsies on this trial for the first 40 UK patients) and was under the wonderful care of Great Ormond Street Hospital.
Noah's parents were naturally keen therefore to support other DIPG children receiving treatment at the hospital with any of their fundraising.
All of Noah's Rainbow funds including this fabulous £2207.52 will now be dedicated through Abbie's Army to the new co-funded CAR-T trial for 12 patients that will open at GOSH during 2021.
We are so grateful for this incredible donation and hope that real comfort comes from knowing they are supporting new options in memory of their beautiful son Noah. 🦖 🦖🦖
You can find Noah's story on our website and more information on his wonderful legacy at 💗"

"Our Vision at Havens Hospices is 'Making every day count' for every child, young person, adult we care for. It is with deep gratitude we receive your very kind donation of £2,207.52 today, Thank you.
I want to personally assure you that your generous gift is already making such a difference to the families we care for. We don't charge a penny for any of our care services - our hospice care can only exist because of the support and generosity from people like you."